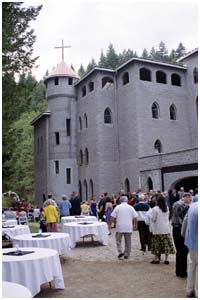 At a castle up in the Columbia Gorge! There's a canton forming out in Hood River, and they held a little potluck at Husum Castle. An interesting place- kinda small (very small with the number of small children in attendance!), but cool! We were using one room on the main floor, and the kitchen. The stairs were scary tiny, circular stairs set into the walls. The windows were all 'gothic' shaped, and the doors all had the rounded tops. Wood floors, and a nice wide hearth. There was a deck just off of the main room, and it had a lovely view of a river. Was quite pretty.
I was smart and brought my own food, which was good because there wasn't much one could eat on a Lenten fast- just a glazed carrot dish and the Canisiones (pastry rolled up with ground almonds, sugar, and rosewater inside) that I brought. But it looked like everyone else got enough to eat and they were happy.
They had several bardic presentations, including a little kid who read a (sanitized) version of
Sir Gawain and the Green Knight
. I left earlier than I'd planned (had a BAD headache) but it seemed that everyone was still having a good time.
Had some trouble driving home- the levo-dopa wore off and my legs started doing their thing. Very hard to drive that way. I was really glad to get home and get some drugs!
This week I'm hoping to get some more work done on Elfreda's gown, before I leave Thursday. And I have to remember to clean out the car before then, as we have a passenger (Vanyev) on the way to Coronet. Somehow I don't think he would care to ride with my trash collection. :-)