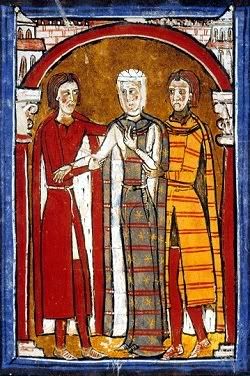 But in other places not so quiet...
James and I day-tripped Summits Coronet- he suggested it rather have have me totally exhausted from loading and setting up and all of that stuff. We took a dayshade and chairs and such, and made do. The event to was ok- the tourney was very clean and Graf Berek won. Court went on and on and on and on... A bunch of local awards, and Geoffy had to blather on about everything. Then there were two Pelicans made. And then we packed up and left. By the time I got home I was really tired. Sure was nice to sleep in my own bed.
The new Frankish outfit worked really well, and I got quite a few compliments- especially on the hat. I was really happy with the hat, too. Need a little more padding in the back, but otherwise very nice. I'm thinking to do some more Frankish gowns- something comfy to wear while I'm trying to drop weight, and even after I've slimmed down, they'll still fit ok.
I found a cool picture online--> it's 12th c Spanish, and what's interesting is the woman's outfit. She seems to be wearing an opensided gown with no sleeves- almost looks like a gates-of-hell surcoat. But it's laced closed (or nearly so). A bit different from the usual French silhouette that is shown as an example of 12th c clothing.
And I think the fabric looks keen, with the stripes and the stars. And one more thing- the picture is titled 'Mariage', and it is supposed to be the woman being handed over to the new spouse. Funny- she doesn't look very happy about it...
I have a new keyboard! Hugh and Muireann were *giving* it away to a good home, and I snapped it up. Five octaves, all sorts of different settings. I ordered a sustain pedal for it, and next month I'll get a stand, and hopefully the music stand for it. I've been playing it a lot. Dug out my old hymnals and have been pounding my way through. Been more than ten years since I've played regularly, and oooh, it shows. But I'm getting better.
I'm hungry. I think it's time to go find something to eat.